Become A Better Exporter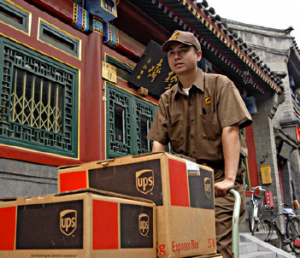 Secrets for saving your staff time and securing additional international business.
Originally Published by UPS – April 2011
You're doing business around the world. You've figured out the basics and now your company is sending hundreds or thousands of your products abroad.
But things could be better. Perhaps visitors exit your website at the shopping-cart phase, customers complain that orders take too long to arrive or goods get stuck in customs. You need relief for your export "growing pains."
We asked experienced exporters and industry experts to identify some common pain points and share proven solutions to help you become a better exporter.
Pain point 1: Missed sales opportunities
Imagine that you're walking down the aisle in a new store when an enticing product piques your interest. You pick it up. It looks great, but there's one problem: The price label says, "Additional fees to be added at the store exit."
That's pretty much what international customers experience when duties and other import fees aren't calculated upfront – customers don't know the final price. Just as you'd probably walk out of the store without making a purchase, your potential buyers may end up leaving your website.
Solution: UPS TradeAbility® includes a Landed Cost Calculator that enables buyers to see the full cost of shipping to their location, including duties, taxes and transportation fees. When you add this free service to your company's website, your customers will know exactly how much they can expect to pay.
Pain point 2: You can't get products to international customers fast enough.
It's a competitive world out there, and there's always some other company that's going to try to beat you at your game. You may have the best product on the market, but what if your customer is halfway around the world – and the competition is just a city or country away?
Solution: It could be time to build more flexibility into your distribution network by rethinking your supply chain. This might mean establishing a new distribution center, tweaking one or two legs of transit, or rebuilding the entire supply chain from the ground up. Whatever your need, UPS can help you design an effective global transportation plan.
An example of this at work is Matthews Studio Equipment, a maker of grip equipment for the film industry. International sales are an essential part of its business. Robert Kulesh says his Burbank, Calif.-based company plans to go head-to-head with an Italian competitor by building a distribution center in Europe, followed by another in Asia. This will position the goods closer to the end users.
But no matter where it ships, the company relies on UPS to get the job done.
"We use UPS nationally and internationally," Kulesh says. "We have to have confidence in the people we pass our products onto to deliver around the whole world."
Pain point 3: Custom delays into Canada
Many companies that use an outside customs broker to handle shipments into Canada face additional costs and even costly holds of goods going across the border.
Solution: When Discount Ramps.com, an online supplier of ramps, lifts and transport racks based in West Bend, Wis., looked into expanding its web presence in Canada, it needed fast and cost-effective shipping. John Killoren, UPS senior account manager, suggested that Discount Ramps become a Non-Resident Importer (NRI).
"NRI allows a U.S.-based shipper to set up a virtual presence in Canada, where they get a Canadian business number and they become the importer of record," Killoren says. In essence, the U.S. exporter also becomes the Canadian importer, enabling the company to maintain control of shipping on both sides of the border.
Killoren also suggested UPS World Ease®, a contractual service that groups multiple shipments destined for the same country into a single unit to clear customs, simplifying the process and reducing brokerage fees. As Discount Ramps' export volume into Canada grows, World Ease will become a convenient way to save on customs brokerage fees, Killoren says.