News and Events
NADEC Annual Export Conference – May 21-22, 2019
Sep 14 Event – CLOSE THE DEAL AND SLEEP SOUNDLY!
National District Export Council Press Release
KDEC and WTC-KY Joint Luncheon on Brexit, TPP and NAFTA
ACTING U/S HYATT KENTUCKY INTERNATIONAL TRADE SUMMIT 2016—LOUISVILLE, KY
Exporters meeting with Senator Mitch McConnell – At Paducah Rotary Meeting, July 1, 2015
What Does Ex-Im Bank's Financial Services Offer to Kentucky Companies?
Trade is important to Kentucky's economy and job growth
Invitation to Kentucky Business Round Table: Opportunities for US Companies in Uzbekistan – June 4th
---
European Market Opportunities: A Luncheon Briefing for Kentucky Exporters
Date: Monday, April 27,2015
Time: 11:15a.m. to 2:00p.m.
Place: Commerce Lexington
Admission: $50, Lunch Included
---
Kentucky businesses setting export records
U.S. Businesses stand to benefit from trade with Cuba
Trade Awareness Program – September 18
New Data Shows Louisville- Jefferson County is a Leading Metropolitan Area for Exports
SSI Earns Inc. 5000 Honors as Fast Growth Government Contractor
Export 101 and Import 101 Compliance and Logistics
$8.75 billion in exports from Louisville metro companies
Louisville Business Booming Overseas
Trade Benefits America: The Trans-Pacific Partnership Opportunity
US Government Offices Availability During Shutdown
Exports Benefit Kentucky Companies
Sign up now for: Kentucky World Trade Day
Utilize Government Resources to Help You Go Global
To review the article on Trade with Russia, please click on the following link: http://www.courier-journal.com/article/20120705/OPINION04/307050019/Darren-Srebnick-Free-trade-Russia-means-jobs-Kentucky
To review the article on Trade with Korea, please click on the following link: http://www.kentucky.com/2012/07/06/2250062/j-edwin-webb-kentucky-poised-to.html
Bingham Greenebaum Doll's Robert Brown Elected to U.S. Department of Commerce 2013 District Export Council Steering Committee
E-newsletters
Click the image below to read the most recent KDEC e-newsletter or search through the archive of older letters.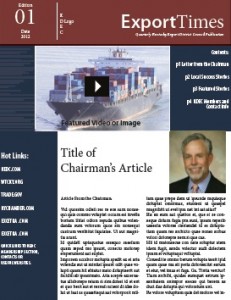 Local Training & Classes
Learn about local training and classes available to learn about and become certified in exporting. Read more.
Local Company Success Stories
Learn about other Kentucky & Southern Indiana exporting successes. Read More