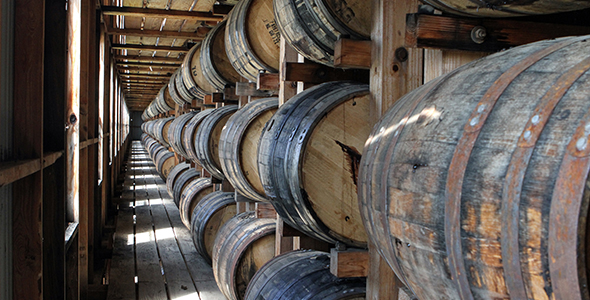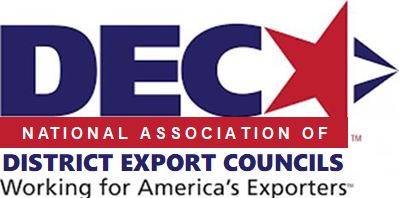 ---
JUNE 2021 UPDATE
---
2021 NADEC Annual Export Conference Sets Record Attendance!
"On behalf of the National Association of District Export Councils, I would like to express my deepest appreciation for the many outstanding speakers and people behind the scenes that made to 2021 NADEC Annual Export Conference a huge success! We had a record attendance for this virtual event with over 370 individuals participating over two days. NADEC was honored to have Gina Raimondo, U.S. Secretary of Commerce and Indiana Senator Todd Young provide keynote remarks. And we couldn't have had such an outstanding event without our generous sponsors highlighted in this Update," said Shawn Levsen, NADEC Chair.
Gina Raimondo thanked the DEC members for their dedication to promoting trade in the communities where they have volunteered to serve. She highlighted that a big part of the American Jobs Plan is about helping businesses compete at home and abroad. "As Secretary of Commerce, trade promotion is at the top of my agenda because it's critical to American competitiveness and economic growth," said Secretary Raimondo. "The Department of Commerce will do everything we can to ensure American goods and services succeed in the global market." Key components in making this happen include eliminating barriers and doubling support for underserved communities and SMEs; strong support of travel and tourism, and the creation of a National Export Strategy. The DECs will play an important role in organizing small business roundtables across the nation.
Senator Todd Young also emphasized the importance supporting our businesses in exporting their products and services and the important role the DECs play. "We have to continue to knock down barriers that hurt small businesses. And we must always defend the interests of America's workers, producers and job creators when it comes to trade partners who do not share our values –or who restrict access to their markets while ours remain open," said Senator Young. "I know we are aligned in our mission: opening markets, supporting innovators, helping our citizens lead productive and fulfilling lives – which guides them in their pursuit of happiness – the promise at the heart of our Declaration of Independence. This is a very important charge you have. I am happy to be your partner in it."
Plans are already underway for the 2022 Annual NADEC Export Conference to be held at the Marriott at Metro Center, Washington, DC on May 19-20, 2022.
---
A BIG THANK YOU TO OUR SPONSORS!
NADEC greatly appreciates the sponsors of the 2021 NADEC Annual Export Conference!
NADEC is partnering with the Conference Platinum Sponsor, IBT Online, to bring additional training opportunities to Local DECs!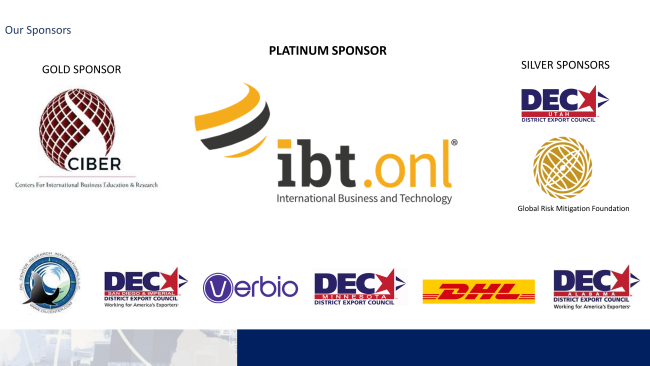 ---
Education Committee Update
---
$AVE THE DATE – TRADE FINANCE – JUNE 30, 2021
NADEC will host its next webinar on June 30, 2021 at 3 pm EDT. The topic of this month's webinar is Trade Finance. Further information and registration will be available soon on the NADEC website – www.usaexporter.org.
---
Local DECs Update:
"DEC of the Year" goes to the North Texas DEC!
The North Texas District Export Council was recognized as the DEC of the Year at the NADEC Annual Export Conference on May 26, 2021. The award was presented virtually by Dale Tasharski, Assistant Secretary and Director General of the U.S. Commercial Service (Acting). Accepting the award on behalf of the North Texas DEC was Jessica Gordon, Director, U.S. Commercial Service Dallas-Fort Worth.
This past year, the North Texas DEC has been a strong advocate for the economic empowerment of women entrepreneurs both in the United States and abroad. The International Trade Administration's U.S. Commercial Service and North Texas District Export Council collaborated to develop the Virtual Inaugural Women's Global Trade Empowerment Forum focused on the United States-Mexico-Canada Agreement (USMCA) with a goal to increase opportunities for North American women-owned businesses to build partnerships and access new networks and resources.
"The North Texas District Export Council is an excellent example of the private sector and government working together to build a stronger American economy. A great example of this education and collaboration is the Women's Global Trade Empowerment Forum held last year. Our DEC members along with the US Commercial Service pushed through the uncertainties faced with the Global Pandemic and created a truly unique program that could fulfil our mission and connect, educate and mentor these entrepreneurs," said Greg Chalkley, Chair, North Texas DEC.
"The Women's Global Trade Empowerment Forum, an innovative six-part digital forum, provided a unique opportunity for the more than 1800 attendees from the U.S., Mexico, and Canada from one of the fastest growing segments in the global marketplace, women-led companies, to access emerging business opportunities under USMCA and implement growth strategies through mentoring and strategic engagement," said Jessica Gordon, Director, U.S. Commercial Service, Dallas-Fort Worth and Chairwoman of this inaugural event.
---
Robert Stackpole Named Executive Secretary of the Year
Robert Stackpole has been a tenacious advocate for trade and can be counted on by the many Alabama businesses he supports in expanding their trade opportunities. As the sole representative in Alabama for the U.S. Commercial Service throughout the pandemic year of 2020, Robert handled queries and requests from the 3,500 plus exporting firms while also tending to the needs and operations of the Alabama DEC. Almost overnight, and lasting well into 2020, came cries for help regarding lost and delayed cargo, delinquent payments, closed markets and stranded employees in foreign locales.
Robert has been instrumental in his technical input and follow-on promotion in developing innovative ways to pivot the State of Alabama's STEP program from mainly an underwriter of new-to-export companies' participation in foreign trade shows into a broader and timely use of STEP funding to provide a targeted set of services relevant to successfully operate within the COVID-19 environment. The new focus has included training and technical assistance for Alabama companies to connect globally by facilitating cross-border selling through e-commerce and website globalization. He also proactively organized a joint meeting between the Georgia and Alabama DECs to share information, best practices and to expand the network to the regional export community.
Additionally, Robert has strategically positioned the Alabama DEC to take on a leading role in two pivotal areas: Trade Policy and Export Mentoring, and this has been key to addressing many trade issues by building on the expertise of the Alabama trade team, also known at the Export Alabama Alliance.
Robert is a true trade team leader, working cooperatively with resources across the state to identify and meet the needs of the export community. Robert's leadership in addressing trade issues and concerns during this unprecedented time – and always – is essential in staying the course, and he handles his responsibilities with assurance and his huge smile!
Shawn Levsen, NADEC Chair, presented Robert Stackpole, Director, U.S. Commercial Service – Alabama Export Assistance Center and Executive Secretary of the Alabama DEC, with the 2021 Executive Secretary of the Year Award during the NADEC Virtual Annual Export Conference on May 26, 2021.
---
Let's Increase DEC Member Engagement!
NADEC WEBSITE INITIATIVE: NADEC would like every local DEC to have its own presence on the worldwide web! NADEC is providing 2 options to local DECs to develop a cost-effective website. Funding assistance is available. If your local DEC does not have a website and would like further information on this initiative, please contact Shawn Levsen, NADEC Chair or Anne Burkett, NADEC Communications Officer.
NADEC is offering local DECs several benefits to facilitate DEC Member Engagement. Local DECs can take advantage of a 40% discount using Constant Contact to communicate with their members. Local DECs can to sign-up through this URL:
https://go.constantcontact.com/signup.jsp?pn=nadec [go.constantcontact.com].
Please contact Anne Burkett for further information.
In order to get the broadest exposure for NADEC's communications on social media, we encourage NADEC members and members of the individual District Export Councils to include your DEC membership on your LinkedIn profile to heighten the visibility of the faces of trade! You can click on the icons below to access NADEC's social media.